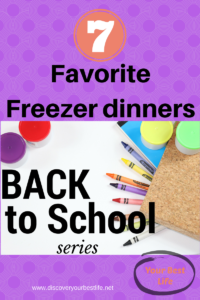 I love cook-ahead, freezer meals! As we get ready for going back to school, I am preparing for more than just gathering school supplies and getting my son's closet ready with new (to him) clothes that actually fit. Another area I am getting ready for the hectic back to school season is by prepping seven ready to cook freezer meals.
These meals are ready to come straight out of the freezer and into either the oven or Crockpot; they will be perfect for those busy days when we have all the many afternoon activities that come with heading back to school. Prepare them now and you will be so happy in the coming months knowing that you are prepared for those busy nights and not stuck in line at the drive-thru!
Dinner 1

Chicken broccoli rice casserole – Crystal Paine from Money saving mom was the first person to introduce me to the idea of preparing enough food for multiple dinners at once; one meal you eat that night and the second you freeze for another night. This dinner freezes so well and is ready to thaw overnight and then pop in the oven in the evening, bake for 30 minutes at 350 and you are golden! I have also read that if you forget to thaw it overnight you can put it in the oven still slightly frozen, but just do so before you preheat. Then it will defrost while the oven is preheating and you will probably want to add another 10 minutes to the bake time (I am at a fairly low altitude so adjust your times and degrees based on where you live).
Another great bonus for this particular recipe is that is already set to create four dinners…no math needed! Super simple recipe that the kids will love! [*side note: if you have picky eaters at home then you will want to just prepare this recipe as is; however, if you and your children like a little extra kick and flavoring, as mine do :), then add seasoning as your family will like it. I always add at least onion powder and garlic powder to most recipes, then whatever else I find in my seasoning cabinet]
Dinner 2

Cheesy Chicken Enchiladas – this is one recipe that I have found does not need much doctoring up! The kids love it as it is not super spicy and yet it has enough flavoring for mom and dad to enjoy it as well. The only change I make is that I use chicken thighs instead of chicken breasts as they are crazy cheap and we are not on any sort of dietary restrictions in our house. Boiling the bone-in chicken also makes a great broth, so two-for-one on that step in the process. I love how she uses the foil pans from the dollar store then I don't feel so bad just tossing them after I am done cooking dinner. If I have space in the freezer or if I haven't had a chance to make it to the store I will just use one of my Pyrex baking dishes I got from my grandmother years ago.
Added bonus – this bakes straight from frozen! Use the instructions in the picture rather than what is in the recipe: 45-60 minutes at 350 degrees. This is such a great go-to option that must be in your freezer before any busy season in your life whether it is back to school, new baby arriving soon, whatever!
Dinner 3

Slow cooker chicken with sweet potatoes and green beans – this recipe is from a blog that I reference often, I knew the minute I found Stockpiling Moms on Pinterest that I would be back many times. The best part about this recipe is that the meat does not need to be prepped on the day that you are making all your meals, trust me if you are doing three to four different meals in one day this makes a big difference as it frees up valuable stove top space!
Unfortunately, I found out the hard way that you absolutely do not want to put regular white potatoes into your freezer meals! Sweet potatoes, however, seem to freeze better. I have braised them before freezing and also skipped that step and didn't notice a difference, but it's nice if you have the time to prepare them before freezing. Green beans tend to be whatever I have on hand: canned during the winter, fresh and local during the summer, or just from the supermarket. Just toss it all in a freezer bag and voila! Dinner!
Dinner 4

Lemon Pesto chicken – this is another great chicken dinner that is easy to add to my freezer prep days. If I am making this the day of the meal then I will go ahead and brown the chicken breasts before putting them in the crockpot as it seems less slimy! Plus I have read that it keeps the moisture in while they cook in the slow cooker all day long which is nice, but really it is more of a personal texture issue :). Otherwise, if I am just preparing multiple meals in freezer bags I might skip that step if I am pressed for time. The best tip from the recipe is that one jar of pesto sauce is perfect for two meals so you might as well make two dinners and save yourself some time on another night when you are super busy! Serve this meal over whatever starch you already have in the pantry, any rice or any pasta will work, how great is that?!?
Dinners 5-7
The last thing I will do before school starts is to buy as big a package of the good (93%) ground beef as I can afford – hopefully at least 5-6 pounds. Now that the kids are getting bigger I have been using 2ish pounds of ground beef in each my dinners….but not necessary…and besides by only using one pound plus lots of extra goodies it keeps the boys happy that it is not "meatless" and keeps me happy that it is frugal!! I will divide up the GB into 1-2 pound increments and brown with onions. 2 onions will do just fine, cut in half and use half for each batch of ground beef. Sprinkle with some garlic salt/powder and paprika if desired while it's browning. Once I have these 3-4 ready-made packages of GB, freeze flat in freezer bags and you are ready for tacos, chili, and spaghetti, whatever!!!
Once school starts it can feel like time all of a sudden speeds up! By making a few dinners ahead of time, I can slow down time and ensure that we have a few ready-to-go easy dinners that make my life so much easier! If you are looking for other tips on making dinner time easier around your home, check out my meal planner here! This one tip alone has saved me to so much time, stress, and money! Be sure to check it out, I just know it will save your sanity too!
I hope you enjoy these dinners as much as my family has!
Coupons powered by Coupons.com