There are so many ideas about how to make money from home swirling around the internet. How are we supposed to make sense of it all? And how can we do it without joining something that wants us to purchase thousands of dollars of inventory? My first rule while surfing the internet looking for legitimate ways to earn income from home is that if they want money up front I usually pass. I also don't tend to worry about making a million bucks right away, I just want to cushion our accounts a little and maybe get a latte every now and then….which brings me to…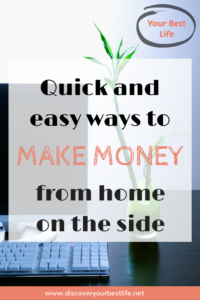 $5 a month –Swagbucks
Everyone knows I have a coffee addiction! I love my cup of joe in the morning (and afternoon, and sometimes even the evening!). However, I don't love how the prices keep going up. It is hard for me to justify $5 each time I drive through for coffee when I am trying so hard to save up for our house. So I started to make it at home each day instead. Lucky for me – and my love for lattes – a few years ago I discovered Swagbucks! No, you will not get rich and make millions from home taking surveys and watching short 1 minute videos. But yes, you will be able to fund your Starbucks addiction at least once a month. When my second was born and I was up around the clock, I was averaging a gift card a week! Thankfully, he is my good sleeper and that phase didn't last nearly as long as it did with our first! Nowadays, I will let it add up a little longer and wait to cash it out and sometimes even choose the Amazon gift card instead. But you can get whatever kind of gift card you want, they have hundreds of options if coffee and shopping aren't your things. But let's face it…if coffee and shopping weren't your thing then we wouldn't be such good friends, would we?!?!
$50 a month – Become an Influencer
Tweet your way to the bank. Now, I have to admit, this one is still on my To-do list. As someone who did not come-of-age on constant social media, the idea of being on all the platforms all the time is new to me. If you, however, are already very familiar with Twitter (and especially if you already have a large following) then the learning curve will not be nearly so steep and you should be able to jump right in. I am currently slowly following a few people as I meet them in my online journey; I am nowhere near the thousands of followers…
(If you want I would love it if you followed me! You can find me on Twitter here and on Instagram here. Thank you!)
…it will take to become an influencer. When I do decide to jump in with both feet then I already know that I am not even going to try to do it alone or waste my time with trial and error. Blogger and professional tweeter (yes, that is a thing!), Saira Perl is the Twitter expert I will be turning to and her course "Influencers 101: How to get paid to Tweet" is just the tool that I am going to use. I have been reading her book (Twitter Strategies for Bloggers) and her blog for some time now and have learned a lot from her. I know that her teaching style is right in alignment with my learning style and a lot of times that is more important than anything else. Be sure to check her out and then let me know about your experience in the comments below. I look forward to hearing from you!
$200 a month – Online Tutoring
I have been doing online tutoring for about a year now. I really love working with students and sharing with them all that I learned while in school. After all, I was in school long enough, I should use it for something right?!? Yes, math and science are the most sought-after subjects; but if you are like me and those aren't your thing then don't worry. They are looking for other subjects as well. I have also worked with students on study skills and time management skills and other soft skills that really do help with overall success in school. College kids are constantly looking for someone to proofread a paper late at night. If you are able to be accessible for last minute jobs then they do pay extra for that. I have my account set up to send me a text message when a new request comes up because I am simply not on email all that often during the day as I am running the kids between appointments and activities most days.
The two companies I am working with are Varsity Tutors and Wyzant Tutoring. They both have their pros and cons but they have been really good to me. Varsity Tutors offers a bit more hand-holding which was great for me in the beginning as I was lost about what to offer. But they decide how much you can charge per hour which was a little limiting, however, I had access to someone I could talk to whenever I had questions which were really nice. Wyzant is more on your own and you can pick your rate which is great especially once you establish yourself and can raise your rates. You definitely need to hustle a little more with them and really put yourself out there to apply for different jobs. Tutoring from home is a great, flexible option to make some decent money without actually getting a job that will require a specific schedule.
$2,000 – Freelance working from home (cut the commute!)
If you have more free time during the day and are looking to really make a transition from a full-time job to being at home then working as a freelancer is really the way to go. It used to be when someone said they were a contractor than that meant they simply hadn't found a "real" job yet, now it is the new normal. And to be honest it has a lot of perks outside of the traditional benefits one thinks of when you have a job and are tied down to one company. Think about it, when you work for one company and they go under (Enron, anyone?) then you are screwed.
However, if you are diversified in your employers and one goes under then you simply pick up extra projects with your other clients and will probably never even notice it. There are so many different ways to go with freelance work that I could write a book about it…and maybe I will! But in the meantime, I have been connecting with employers on a few freelance jobs at Upwork. I have learned so much from my friend Abbi and her free email course "How to be a Freelance writer" and can't recommend her highly enough.
The other way to go is to create your own business and look for your own clients rather than continuing to work for someone else and line their pockets. Trust me, sometimes it is just easier to let someone else do the networking and find jobs for you; that is why I love turning to Upwork to boost my income every now and then. I usually tend to look for smaller projects that have a shorter end time rather than to actually take a full-time job through them. But you certainly can if you are really looking for stability and benefits but want to work from home.
If, however, you choose to create your own business and really invest in yourself; then please check out my dear friend YuWanda Black over at Inkwell Editorial. She is a wealth of information and has been doing this for years. I "met" her online a few months ago in a Facebook group and she has been such an inspiration to me as I have been learning the ropes to online income. If you follow me on Pinterest then it will be super easy to find her as she is on my Pinterest as well. And more than likely you have seen some of her post on my feed as I reference her on a regular basis. She has so many wonderful, free articles on her website about just how she has created her entire income (and her entire tropical lifestyle) while working from home online.
I hope these ideas have been helpful in sparking an interest for you; and that they can help you along in your journey of looking to supplement (or totally replace) your family income from home. Check them out and see if you can put a little space between you and the paycheck to paycheck life.