Do you find yourself with an ever-increasing to-do list, and no weekly plan to get it all done? Why are we so busy running around being busy?
How can we save our sanity – and still get everything done – without throwing our hands up in despair? What has helped me is my weekly plan.
Thanks to Flylady I have spent the last few years creating and putting into place many routines. This helps me to tackle #allthethings that need to be done to keep this ship running smoothly.
This whole "adulting" thing didn't come with a manual.
My Weekly Plan
I have so appreciated the dear advice from my favorite fly-fisher-woman from North Carolina over the years. I have learned a lot about living life and maintaining sanity. And the weekly plan is one way I can do this.
Having routines is just one of those things I have gleaned from FlyLady; you can read about my morning and evening routines here. Another one of the many routines that I have created is my Sunday afternoon weekly planning routine.
This is planning session helps me to create a game plan for how I am going to attack the following 7 days. My version of the weekly plan can be broken down into four easy steps:
Review
Brain dump
Plan it out
Pick my one thing
Brain Dump
Using my trusty spiral notebook and a simple planning page I can map out just what needs to be done. This way I don't end up back at square one next weekend wondering what happened with our time.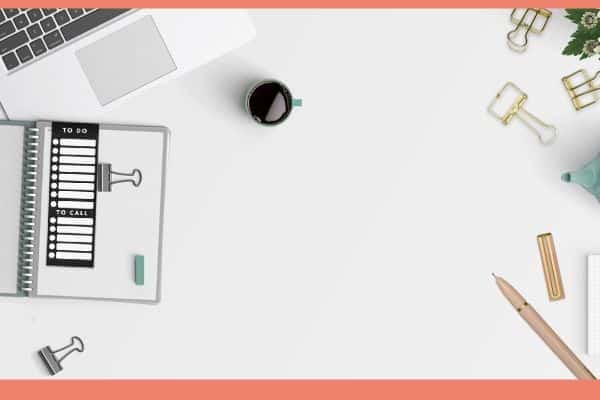 First, I settle in with a hot cup of coffee and spend some time in reflection; just thinking back to the previous week and evaluating how it went. I only spend about 5 minutes here, but I ask myself these three questions:
What went well this past week?
Where could things have gone better?
What items are still on my to-do list that didn't happen last week?
Then I spend another 10 minutes or so emptying out my brain, in a mini brain-dump, if you will. To read all about doing a full-on brain dump I suggest you read Getting Things Done by David Allen.
Without doing the brain dump, we are just listing out all the nagging thoughts that are cluttering up our minds. This will wear us out before we even start our to-do list. David Allen says:
"Your mind is for having ideas,

not holding them."
I just love how this reminds us to get all our great ideas out of our heads and onto paper. Otherwise, I will spend way too much of our precious little brain-power just trying to remember all the things. And I won't be able to really delve into the true powers of our craniums.
Once we have everything written down it is a little bit easier to tackle our nagging to-do list. We will have a little bit of clarity and less anxiety.
For me, when I look at a concrete list then it doesn't look so bad. So, instead of having everything running around in my jumbled brain, I can sort out my list. There are many different productivity experts out there that suggest many different ideas. But the best one is the one that works for you and your preferences.
Plan your week and work your Plan
One option is to mark each item with A, B, and C based on their priority levels. Or place them into their own categories on a grid such as one Stephen Covey used. I like to look ahead at my calendar and see which days still have some space in them and simply assign each task a time during the week that I am going to tackle my many projects or tasks.
Unfortunately my schedule is ever changing and not really structured. So this might not work for you if you have a set schedule. If you know that you work every Tuesday through Saturday 10-6, then maybe Monday is your "Get it Done" day instead!
I am not really a type-A analytical person, plus I am in a phase of my life where I need to wait for nap time if I want to be able to focus. And it seems like any sort of a phone call usually ends in me sounding like I have turrets yelling at my kid in the background.
So for me, I don't put each individual item into a time slot on my calendar, I will instead wait for a quiet moment and then look at my list and pick one item that I can get done in the amount of time I have that day.
Pick your One Thing
I have recently read "The One Thing" by Gary Keller and Jay Papasan and really liked their idea of picking one thing that absolutely must get done then focusing on that one thing until it is done. So for me, I might put a star next to the one item that I really want to make sure gets done that week even if nothing else happens. Because sometimes, life, right?
Once you have these items scheduled on your calendar it is more of a matter of keeping that appointment with yourself.
I know for me, this can be very hard to do if I have an appointment with someone else then I go out of my way to make sure I keep it. However, for some reason, I let myself off the hook very easily and have a hard time following through with my best-laid plans.
Once I find a way to make myself do what I set out to do and not goof off on my phone then I will let you know in another blog post! In the meantime, if you have a special trick for getting "all the things" done, let us know in the comments.
Recommended Related Reading: