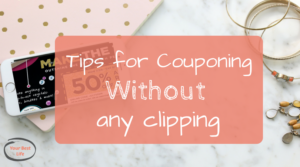 I love saving money! I mean, who doesn't?! And when it comes to saving money at the grocery store, I am all in! But when it comes to extreme couponing:  clipping and organizing hundreds of coupons, ain't nobody got time for that!! 🙂
How I have learned to coupon…
without all the clipping:
If you have a smartphone, you can pretty much do everything you need to do to save serious money at the grocery store – without worrying about doing a ton of coupon clipping. I do still tend to peruse my paper and weekly circular for deals, but seriously, no clipping is required to save crazy money at the grocery store! So sit back on your couch, grab a cup of coffee and your phone, and let's start couponing!
Coupons.com –

This is always the first place I start when I am looking for great deals. I even recently stepped up my laziness game and got a wireless printer! So I literally just tap the coupons I want from my phone and print away.
The best part about getting my coupons electronically is that I am only getting the coupons for the products my family actually uses. I really don't understand when I watch the couponing shows and they feature someone without kids buying diapers or cat food when they don't own a cat – total craziness! I know what items and brands my kids will eat and stick to the same things every time.

Ibotta.com –

I love having this app on my phone! I simply check it out once a week and see if there is anything that I might have on my shopping list. I also love that I can take it with me to the store. If I see a stock up price on something that I *sort of* remember seeing on the app, I simply double check right there in the aisle and then grab it if the price is right.
When I get home all I have to do is snap a pic of my receipt with my camera on my phone. In the next day or so I see the amount show up in my PayPal account. I love seeing the little amounts really start to add up.
The best part is that I have a few bills set up to automatically pay each month using PayPal (like Netflix once we cut the cord) and I get so excited when I see that I might be getting all my fave shows streaming for free this month thanks to my rebates!

Checkout51.com –

This is the exact same thing as Ibotta, only not quite as many offers. I do see some different items come up though so I like to check them both and see just what I can save some money on. I especially get super excited when I see something pop up on my rebates app that I just printed a coupon for, talk about a win/win!!
The best part about rebates is that I really work hard to only buy items that I would have purchased anyway in our grocery budget. Then it truly is like getting free money, remember, it is not free money if you are spending money you don't have or wouldn't have been getting in the first place!

Store apps –

The Fred Meyer app lets me "clip" coupons right on their app from the comfort of my couch. When I am checking out I simply swipe my rewards card and the coupons that I "clipped" are automatically deducted before I pay. Outside of the PNW, Fred Meyer is "Kroger" so check out your local Kroger store and get signed up for your rewards card right away and start saving money! Extra Bonus – I get to save serious moo-lah at the pump too when I use my rewards card to get gas!

Target –

Target gets its own bullet point! I love Target…sometimes a little too much! I can clip coupons right on their app, I can find items that will get me a rebate (see #2 and #3), then when I check out I get an extra 5% off for using my debit RedCard. It's like they are giving this stuff away! I have to be VERY careful when I go to Target though – if I am not strong enough to tell myself "no" when I see super cute deals that are not on my list then it is better to just skip the store completely some weeks!
One special deal that I really like with Target is that the store nearest to me is a "superstore" meaning it has groceries. And the Target app actually offers coupons on produce on a very regular basis. This is really nice as a lot of times I find myself buying way too many boxed and frozen meals just because I had a coupon, so being able to buy produce with a coupon is a huge plus in my book.

Krazy Coupon Lady –

I have been on her mailing list for just about forever! She emails me whenever there is a sale anywhere on everything. Unfortunately, this can get annoying, especially when I am trying to not spend any money; but it can also be very helpful when she sees a "stock up" price on something like toothpaste that I would need to buy anyway. Then I am very grateful to be able to get it at rock bottom pricing. Krazy Coupon Lady is my go-to resource whenever I want to find the best price on something or just double check if a high-value coupon is really worth it. These ladies really know their stuff!

Youbucks –

These are a little bit more complicated but when they work, they really pay off. You need to do some research to find the items that pay you back for buying larger quantities of their product, then after you check out the "bucks" are printed out automatically when they give you the receipt. These are just like cash, so don't lose them…and watch the expiration dates! But the next time you are shopping, whip these out and use them just like cash on items that don't normally have coupons such as produce and meat.

Day old bread –

This works in the meat section too. I always check out the bakery and meat sections for any items that the stores absolutely have to sell that day. These are usually high-quality items that are slashed down to crazy discount prices. I love getting the specialty artisan bread for the same price as the mass-produced loafs of bread. I also find some great deals in the meat section and have saved tons of money this way.
Word of warning, they are serious about it needing to be used or frozen that day! Don't put this off or you are just wasting your money. If you can't use the meat that day, pop it in the freezer and save it for a day you can, it will be a great treat for a week when you are trying to save some money and find this in your freezer.

Coupon codes –

I don't ever purchase anything online without a quick search for a coupon code. I have saved anywhere from free shipping up to 25% off of something I was going to buy anyway. Simply open a new window and search Google for "Halloween costumes coupon codes" then simply enter the code during checkout and save money. It's as easy as it gets!

Ebates –

Speaking of saving money online, be sure to sign up for a free account with Ebates before doing any shopping online. When you sign up for your free account you will automatically get $10 free added to your account and you can browse all the latest deals to get money back. Again, for me, this can get annoying when I find lots of items that are a great "deal" but are not things we need nor are they in this month's budget.
It takes a lot of willpower to walk away from something you don't need, but if you weren't going to buy it anyway then it isn't saving money just because it is cheap! Be careful! However, if you are good and stick to only getting things that you needed to buy anyway then it really is a bonus when you see the rebate amount added to your PayPal account!
PS – their commercials seriously irk me when the spokesperson says she "made" $100…..you do not make money with any of these apps. Rather you save money! Which I love to do! But it's only saving money if you are buying something you would have bought anyway (I feel like I said that once or twice! haha! But I just want to be clear!).

Bonus bullet point –

Good old fashioned newspaper clippings! I know I said no clipping is required so that is why I made it a bonus item – not required but it is a nice supplement to couponing. I do not have a newspaper subscription and a lot of times when I do buy a Sunday paper I feel really guilty for just recycling the rest of the paper as I really don't read it. So that is why newspaper clippings really are just a supplement to my coupon saving arsenal. If I have the time and inclination to check out a paper, then I will do so. However, on those weeks that are crazy-busy and already too hectic, then this is absolutely the first thing to get cut from my to-do list.
The nice thing about checking out the paper is that I can see what the different stores are discounting without having to drive all over town; I can also see what coupons the stores are offering each week. If I have a manufacturing coupon for butter and see that Albertsons has a store coupon for butter, then this might be worth stopping in to get this one item with two coupons (check store policies for stacking coupons, but general rule of thumb is that you can use one manufacturing coupon and one store coupon for each item).
I happen to have a neighborhood Albertson's that is super close and I have to drive by it every single day anyway; so that is why this is one store I am usually willing to go into for just a handful of items…but don't get anything else or you just lose whatever little bit you saved with your coupons! I also find that my Albertsons usually has some awesome discounts in the meat section, so on the weeks when I have a little extra in my grocery budget I will stop in there and see if there is anything I can add to my freezer.
Plan your week and work your plan
I hope these tips help you as much as they have helped me to save on my grocery budget. Over the years it has really added up. You really can feed your family on a nominal budget if you pay attention to the sales and plan your menu weekly around what you have and what is discounted this week. Plus think about the extra benefit of eating food you actually made, rather than eating out every other day!