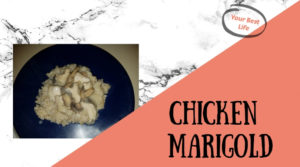 Does cooking come easy to you, or are you more like me and end up all thumbs in the kitchen? I envy those of you who can easily and quickly whip up some amazing dinner. Unfortunately, I was not blessed with these skills. Do you watch those 30 minutes meal TV shows and just know that it would probably take you a few hours??
Yeah, me too.
Until this recipe entered my life:
Chicken Marigold
Looking at cookbooks and watching the cooking shows on TV have always been completely overwhelming to me. They make it look so easy. And yet, I would usually end up with a complete disaster in my kitchen, smoke everywhere, and calling for pizza.


Coupons powered by Coupons.com


When I was first learning to cook I decided to reach out to my tribe, you know those people in your life that will pick you up at 2am, no matter the location and no questions asked. My request was simple: super easy recipes with as few steps and as few ingredients as possible. Apparently "few" was too vague and not as definitive as I needed to be. Some of the suggestions, while well-meaning and probably easy to them….did not look easy to me.
The One
One, however, one recipe stood out from the rest and looked like something even I could handle. What happened next was not picture perfect and I learned an important lesson: do not start drinking wine until after the majority of the cooking is done!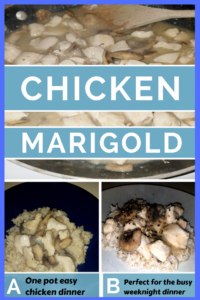 The more that first attempt flopped, the more I kept pouring and it was not a pretty picture. It was, however, edible and I knew that I would be able to do it again. Years later, I can now almost make it without a recipe in front of me; however, I usually go ahead and bring up the email just to see the words from my dear friend, Sarah, as she encouraged me that I too could learn to cook for my family.
This can be one-pot cooking if you have the right pots. When I first started making this, I did not have the right sizes to make it all in one so I would usually use two. If you have a deep skillet pan, you will be able to do this all in one; and if it has a lid even better, I have made it without a lid and it is just fine.
If one pot meals with fewer than 5 ingredients is your cup of tea, then we should definitely me friends! lol! But more importantly, you should definitely add this meal to your weekly meal plan. Your family will love it and you will love how easy it to throw together on those busy week nights (or is that just me?!).
This is the original recipe as shared with me, however, I almost always have to double the recipe these days as we are up to four people eating dinner and this one hardly has leftovers even after doubling it.
Getting Started
Cut 2 boneless, skinless chicken breasts into bite-sized pieces. Drizzle olive oil all over your pan and turn on medium to high heat, add the chicken pieces to your pan as it warms. Sprinkle with garlic powder/salt and cook until almost all the pink is gone. It will cook more throughout the process so it doesn't need to be all the way done at this point, but I still tend to let this step go a little longer than it really needs to be just out of precaution.
Add the mushrooms, either canned or fresh (I always prefer fresh mushrooms and I don't cut them very small or thin as I really like mushrooms! However, when I see the canned mushrooms on sale I will pick up one or two just to have on hand; it is always nice to have them when you need it in a pinch), and turn the heat to low.
Add butter and let it melt, we didn't drain the juices from the chicken so that is all mixing with the butter to start our sauce. Sprinkle the flour all over everything and stir until it is all coated. Gently stir in the chicken stock and allow everything to cook another 10 minutes. If you have a lid, cover it at this point, but if you don't it is fine.
Finishing up
The sauce is light in color and not thick like gravy but it is soooo good and really makes the recipe. If it is too thick you can add more chicken stock to make it more like the consistency of sauce rather than gravy. Serve over rice; I am usually pretty liberal in covering all the rice with as much of the sauce as I can without it running off the plate!
If you want to add some green veggies on the side, I like to get the frozen steamer bags of broccoli for this dinner, but if I don't have those on hand I can usually justify that there are mushrooms in the meal and call it good on the veggie front!
I hope your family likes this recipe as much as mine does! Remember, I do tend to double it these days but that is a fairly new development as we are just now up to all four of us having dinner….no more making baby food for us! If you want any sort of leftovers go ahead and double it, this is an easy recipe to do that and I think you will be glad you did when the munchkins keep asking for more!
Yields serves 4
Chicken Marigold
5 minPrep Time
25 minCook Time
30 minTotal Time
Ingredients
2 large boneless, skinless chicken breasts
1/2 tsp garlic powder/salt
8 oz mushrooms (fresh or 2 cans)
1 tbsp butter
3 tbsp flour
1 cup chicken broth/stock
salt and pepper to taste
Instructions
Cut 2 boneless, skinless chicken breasts into bite sized pieces
Turn pan on medium/high heat and drizzle with olive oil
Add chicken and sprinkle with garlic, salt, pepper
Cook until pink is gone
Add mushrooms and turn heat to low
Add butter and allow to melt
Sprinkle everything with flour until it is all coated
Gently stir in chicken stock and allow to cook another 10 minutes
Add more stock until desired consistency
Serve over rice with veggies on the side
7.8.1.2
2
https://www.discoveryourbestlife.net/the-one-that-started-it-all/
Looking for other chicken dinners? Be sure to check out my favorite One Pot Wonder, Trinidadian Chicken! Also, before you spend too much on that rotisserie chicken next time you are at the grocery store, try my Knock Off Rotisserie Chicken here!