Are you a busy mom always running from activity to activity? Does it seem impossible to keep your schedule straight? And then, as if that's not hard enough, at the end of the day everyone wants to know what's for dinner.
Am I right?
If that describes you, then we are in the same boat. It doesn't matter how well I try to plan ahead it always seems like dinner sneaks up on me. And, of course, this is crazy because we all need to eat every day, it's not a surprise! Why does dinner time always seem to sneak up like that? 
Well if you find yourself nodding along, then you're in the right place. Because today I'm talking about my favorite secret weapon: the basic meal plan. 
Seriously, momma, you do not need to pour over Pinterest looking for hundreds of fancy and unique dinner ideas! Don't get me wrong, scrolling Pinterest can be a great way to pass the time. But who has the energy to actually do all the things we pin? 
Anyway, I digress.
Back to my three secrets to success when it comes to creating a meal plan you'll actually follow.
1. Start with your goal
Before you start any new project you have to start with the end in mind. And the same is true when it comes to meal planning. This might seem like a weird secret to success in the kitchen, but it really is the best place to start.
Think about why you're choosing to start planning your meals? Have you experienced a major life change such as a new baby or the loss of a job? Or maybe being stuck at home the past year showed you how important family time is. Regardless, start with your why.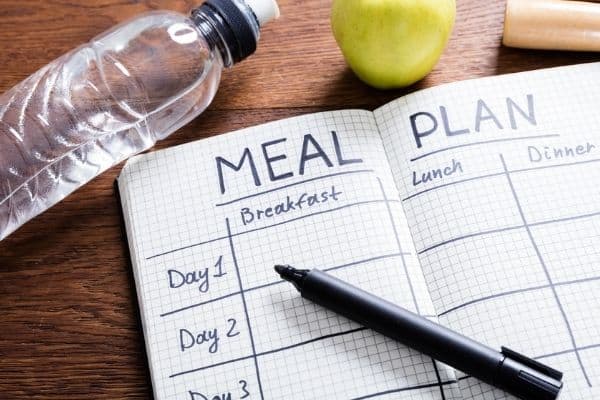 When you know why you're doing this, you will see greater success. Planning your meals out every week takes time and dedication. There will be weeks when you don't want to do it. There will be times you'll feel too busy to sit down and plan it out. However, these are the exact times when you need meal planning the most.
So start by writing out why you want to start planning your meals. Some common reasons include:
Save money
Save time
Eat healthier
Outsource the cooking
Have you ever found yourself driving home from a late night at work, or a kid's practice went late, and you wished you could call ahead and have someone turn on the oven and get dinner started for you?
Well, when you know exactly what you're making each night for dinner this can be a possibility. So, go ahead, dream about outsourcing the dinner prep, and put together your meal plan today. Let's get started in learning how.
2. Theme your days with your basic meal plan
One of the easiest ways to put together a basic meal plan is to theme out your days. This is simply assigning a type of meal to each day of the week. You've probably heard about this before and maybe even done it in the past.
When you're especially strapped for time or ideas, this is a great way to put together a super simple meal plan for the week. Some examples include:
Meatless Monday
Taco/Mexican Tuesday
Slow Cooker/Instant pot Wednesday
Pasta Thursday
Friday leftovers
Saturday pizza night (order out or make your own!)
Sunday picnic night/fend for yourself-finger food
These are just some basic ideas and can be adapted to fit your family. Don't be afraid to embrace the idea of taking a night or two off from cooking dinner. Your family will be okay if you don't make a complete meal from scratch every single night. I love leftover nights and we order pizza way more often than I care to admit (although I just did!).
And there is nothing more fun than putting on a movie, setting up a picnic blanket in the living room, and serving up a wonderful platter of Charcuterie delights. Finger foods offer the kiddos a fun alternative and the best part for a busy momma is no plates or silverware to clean up afterward!
So, have fun and think of a few themes you can assign to certain days of the week. Themes take away the need to come up with unique ideas every night. Taco Tuesday can also be burritos, enchiladas, or other yummy Mexican dishes your family loves. And pasta night doesn't have to be spaghetti every week. Think of what everyone orders when you head to Olive Garden, many of their dishes are pretty easy to do yourself. I love to get ravioli from the deli section. They literally cook in less than ten minutes and offer a yummy alternative to pasta night on an especially busy evening. 
3. Make the most of your appliances
When it comes to planning my meals ahead, I rely heavily on my appliances. And the two most often used are my freezer and my slow cooker. I know that instant pots are all the rage right now, but there is nothing more satisfying than making the whole house smell super yummy all day long with a delicious soup or stew on a cold winter day.
Freezer cooking
I have several other articles dedicated to my love of freezer cooking and my slow cookers. Yes, plural, I own two! My favorite dinners are the dump and go freezer dinners. I will choose a day to dedicate to planning, shopping, chopping, and freezing. 
I will put together a half-dozen different dinners and get them completely prepared. Then freeze in freezer bags ready to dump into your Crock-pot on a busy day. Let it cook up all day long while you chase after the kiddos and everything else on your mile-long to-do list.
This system will save you so much time and sanity when life starts to get a little overwhelming and dinner is the last thing you want to worry about. 
Slow cooker meals
My slow cookers work overtime in my kitchen. Especially during the long winter days when I always seem to lose my energy around dinner time. I have scoured the depths of Pinterest looking for my favorite dishes the whole family will love. You can see my top choices here. 
Your family is sure to love having a warm dinner instead of heading to the closest drive-through after a crazy day. And let's be honest, what days aren't crazy days anymore?
More top tips for success
At the end of the day, you can see that putting together a basic meal plan doesn't have to be complicated. And it certainly doesn't have to take you all afternoon during those precious and all-too-short weekends.
As you go forward with your attempts at planning your meals, remember these few top tips that I've learned the hard way over the years:
Use what you have
Know what you like
Stick to the plan
Watch the sales and stock up
Stay basic – keep it simple!
By setting aside a short 20-30 minutes you can save yourself hours of work and stress wondering what's for dinner. Stop dreading that fateful moment when everyone bursts in the door after soccer practice, dance class, band practice, and endless meetings at work. Everyone is tired and hungry and they want dinner now. Instead, you'll be armed with your plan and ready to answer their questions with ease.
You don't have to be unique and fancy when it comes to making your dinner plans. Yes, it's fun to browse Pinterest, as I mentioned at the beginning, and see the beautiful dinner settings with multiple courses and side dishes. But at the end of the day, will the kids even like those fancy dinners? 
Or will you find yourself fighting an endless battle over how big of a bite counts towards their three-bite minimum?
Start with a plan and use a cute printable
Stop the madness and keep it simple with a basic meal plan filled with ideas they will actually eat.
And rest assured, if we ever meet in person and are blessed enough to break bread together, you will likely be served old-fashioned, comfort food such as taco soup that's been filling my house with yummy smells all day long.
Over the years as I've worked to make meal planning a habit, I've found that having a cute printable helps keep me motivated. You can find my free printable here to download and use every week. I hope it helps you as much as it's helped me.