What are those few items – you know those pantry staples – that you always like to have on hand "just in case"?
I keep a fairly frugal pantry – meaning you won't find any extreme coupon-esque hoard in my basement. But you will find a few basics that I like to keep on hand for those rainy days.
There is the rainy day fund – and then there is the home-makers version of the rainy day fund. For example, was your paycheck a little short this week? Did it snow unexpectedly and you need to figure out meals on the fly? These are examples why I like to have a little "savings account" in my pantry.
These are shelf-stable items I can keep handy so that I can make a quick dinner without going to the store, if I need to.
What are pantry staples?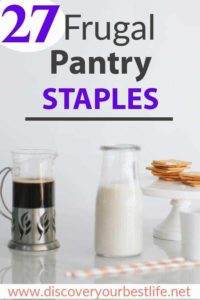 When I think of pantry staples, I think of shelf stable items that I can buy on sale – or with coupons – and save myself beaucoup bucks down the road. So when I read an article about pantry staples that includes produce items such as avocados and peaches, I simply shake my head. No this is not what I am talking about here.
This article, and my printable list at the end, is not meant to be an end-all-be-all list of everything you should purchase on every shopping trip.
Instead, these are the items that I like to purchase when they are on sale so that I always have them on hand. I do not want to run out and then end up paying full retail price…booo!
I also have a few recipes that I can make using only these items. If you live on a variable income, like we do, then you know that some weeks are just better than others. However, on those short weeks, meals like this come in handy. (I'm looking at you Tuna casserole!)
So without further ado, here is my list of what I like to keep on hand in my pantry:
Pantry Staples
flour

sugar

garlic salt

onion powder

table salt

pepper

canned tuna

canned diced tomatoes

canned mushrooms

rice

red kidney beans

split peas

potatoes

butter

extra virgin olive oil

sesame oil

vinegar

Worcestershire sauce

soy sauce

chili powder

cumin

paprika

frozen chicken broth saved in one cup increments

ketchup

mustard

basil

noodles
Kitchen essentials
I also have a very minimal kitchen. This is not something I had to work on (like I am still doing over in my closet!!) but rather I have always enjoyed working from a clear space in the kitchen. So I try to not keep anything on my counters except the two appliances I use every day – my Keurig and the microwave.
Outside of that, there are but a few other appliances I keep in the pantry. Namely, the Ninja food processor is a must have for making smoothies and daiquiris. The toaster is also an appliance that I will not be downsizing any time soon. Lastly, the slow cookers, yes I said two. Because c'mon, who hasn't left the slow cooker to "soak overnight" only to have it still be there three days later when you want to use it again. Enter the second slow cooker! I know, lazy….and not very minimalist.
However, having said that, we do not have any other large appliances in our kitchen or pantry. I do not really bake, ever. So I don't have one of those huge CuisineArt mixing stands. Now if you are an amazing baker and don't really like to use the crock pot, then your kitchen will be different than mine.
And that is what makes the world an amazing place, that we don't have to be cookie-cutter mommas. You do you, momma! What is in your kitchen will be different from mine.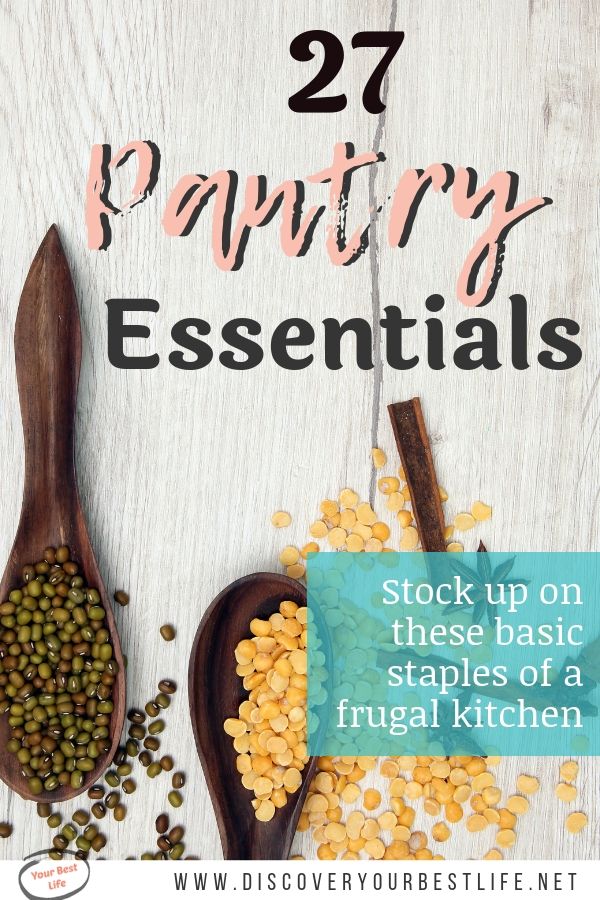 Printable list
Printable list
These are the items that I have found make my life easier. And I am always looking for ways to make super simple dinners that my boys will actually eat.
Cooking from the pantry is a wonderful benefit of frugal living. For those of you who have been around my blog for more than a minute, you know that I am not a fan of the popular "
pantry challenge
" where you spend a set amount of time (week/month) only eating from the pantry. No thank you.
I have spent a long time getting my pantry to a place where it can provide for us weekly so that my shopping list is short and sweet! However, as the Conclusion

I hope this list was helpful for you to start creating your own list. In the meantime you can print my list and a few easy recipes you can make from these ingredients.

You can also check out my

freezer cooking

articles and see if that helps you to plan ahead as well. Freezer cooking is my secret weapon to being a busy, working momma and still getting dinner on the table most nights. I hope you can use these tips to make your own pantry and freezers your secret weapon as well. Use your

menu planner

to plan your week and eat from your pantry and freezer to cut the budget on those rainy days.