Why I won't do the pantry challenge
Have you seen those pins on Pinterest touting the idea of a pantry challenge?
This is where you commit to not spend any money on groceries in a given time frame. From one week to one month of not grocery shopping to "save" money. And instead, only use what you already have in your pantry or freezer.
If you've been around my blog for more than a few minutes, then you know that I am a huge fan of planning. From planning out my week to planning our dinners for the week. This keeps me sane (for the most part!) and saves us tons of money.
Have a plan
And one of the key cornerstone steps in my free menu planner is to take inventory of what's in my pantry and freezer. Stocking up on sales and using coupons helps me to buy staple items at rock bottom prices.
But I don't have the time to run around to all the stores every single week just to keep up on all the sales. A well-stocked pantry and freezer keeps my weekly spending down to about $50 a week on groceries. This is for a family of 4 who eats at least 5 dinners at home (if not 6!) each week.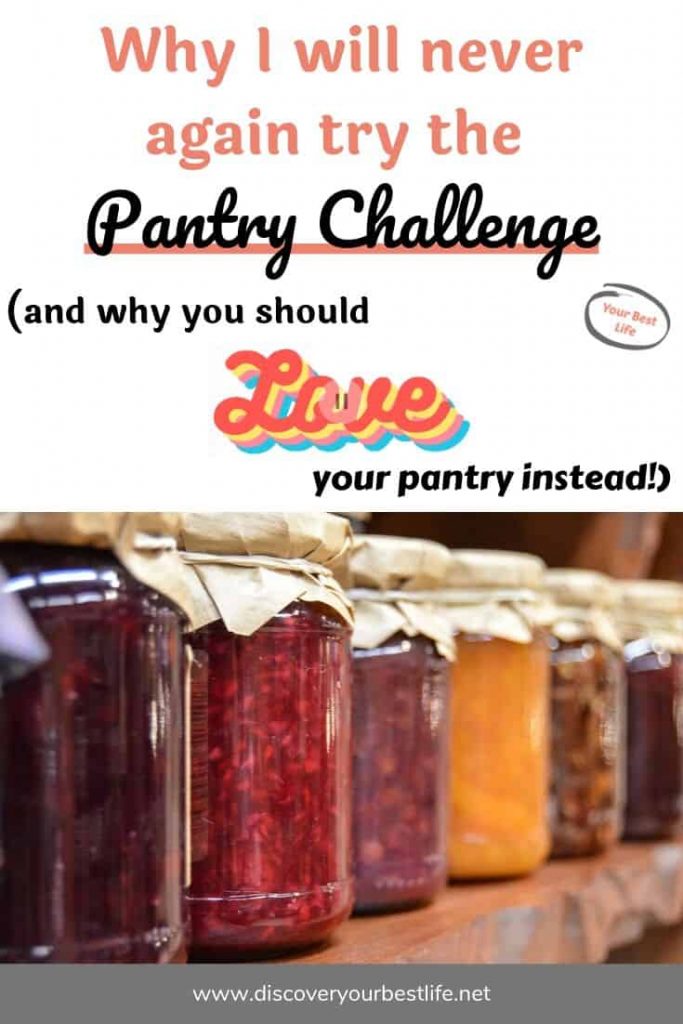 So does that mean I never go over $200 for the month if I only spend $50 each week? No way! Because when I hit a great sale or deal – on a staple item that I know we will use – then I stock up.
This will cause me to go up to $100 on a given week easily. But this is with multiple bulk purchases that can easily be split up and frozen for later.

Freezer Prep
There is one key step that saves me beaucoup time at dinner time (you know that witching hour around 4pm when everyone is hangry and you toddler doesn't want to be set down?!?). This one key step, and the best antidote for the normal stress that comes at dinner time, is prep work!
For example, last week at Winco they had boneless skinless chicken breasts for $1.78/lb. Well, I bought the biggest one I could find. And for a whopping $8 I now have 3 freezer bags in my freezer nicely labeled and ready to go. Now they are waiting in the freezer for the night I choose to use them.
This is exactly why I say I will never again do a pantry challenge. Having these 3 simple bags of cheap chicken breasts means that on another week when I might not have the time to run to the store – or a particularly short check – then I KNOW I can still make a great dinner at home.
And that, momma, is priceless in my book.
What to prep
So, what to prep? And how to best get it done?
For me, going back to the chicken breasts example. I will cut up two of the breasts into small chunks just like I need them for my Chicken Marigold recipe. Another bag has two pieces sliced perfectly for homemade Chicken Alfredo. The last two pieces I simply put in a bag with some BBQ sauce that I already had. And voila marinated and ready for use when I am ready to cook dinner.
This is the perfect example of why it wouldn't be beneficial for me to post my meal plan along with my shopping list for the week. Because they usually don't really align.
With the example of the chicken, chicken wasn't even on my list last week as we had scored a great price on ground beef at Costco the week before that. So right now my freezer is super full, which let me tell you is much more comforting to me than saving money with a pantry challenge.
Saving money
As a mom of two growing boys, knowing that we are all stocked up and ready for anything that might happen feels good. Trust me, there is no better safety net, or "savings account" then buying meat in bulk and having a full freezer when you have little mouths to feed.
There will come a week when the hours at work won't be there and the paycheck will be tight. At that time I can rest assured that we will still have a good healthy dinner on the table each night.
Those will be the weeks that the shopping list will shrink to below $30 and the snacks won't be quite as plentiful in the shopping cart, but we will be fine.
When was the last time you saw your grocery list at or below $40??
And still truly knew that you had everything you needed to put together 4 homemade dinners on the table. That my friend is why I will never participate in a pantry challenge and drain my "savings account" again.
So, what can you do? First, might I suggest you download my free menu planner? It has my simple 4 step process to put 4 homemade dinners on the table each week. Plus I explain why "leftover night" and "pizza night" help keep me sane…thus the 4 dinners each week instead of 7!!
Second, I suggest you keep your eyes open when you see a sale on an item you know you use regularly. You can check out my list of pantry staples here to get you started brainstorming your own list.
You got this, momma! Get started stocking your own pantry and using that as a savings account! So you know that you will always be able to feed your hungry herd each week.